How To Order
My Policy
I guarantee all orders 100%, both goods and postage. You get what you pay for or your money back. This covers live orders as well, so long as you or someone is present to bring the package in as soon as it is delivered. In the unusual event of a DOA just let me know within two hours of opening the package and we'll take it from there.
Decide what you want to order
Look through product descriptions and pricing here or on AquaBid to decide what you want.
Place your order
If you buy on AquaBid I will be notified of the sale by AquaBid.
If you want to order directly as many of my regular customers do, just drop me an email indicating the items you want, your shipping address, and how you would like to pay. I accept either PayPal or US Postal Money Orders available at any post office.
If you wish, you can use this order form
You receive my email and invoice
I'll send you an email confirming the sale and total due, and either a PayPal invoice that you click on to make payment, or my snail mail address for your money order. I do give combined shipping discounts.
I do not take directly emailed PayPal gift transfers to friends and family for goods. Use of invoice and USPS money orders protects both buyer and seller.
I acknowledge payment and ship
I'll email you when payment is received. Shipping is almost always by the next business day and often on Saturdays too. You'll get tracking when I ship so you'll know when to expect your order.
If it is winter and you are ordering live cultures, fish, or eggs, then winter shipping may be required. Click HERE to see winter shipping options. Based on your location and the forecast, I'll be happy to suggest the shipping I think is required.
Here is an example of my feedback from AquaBid customers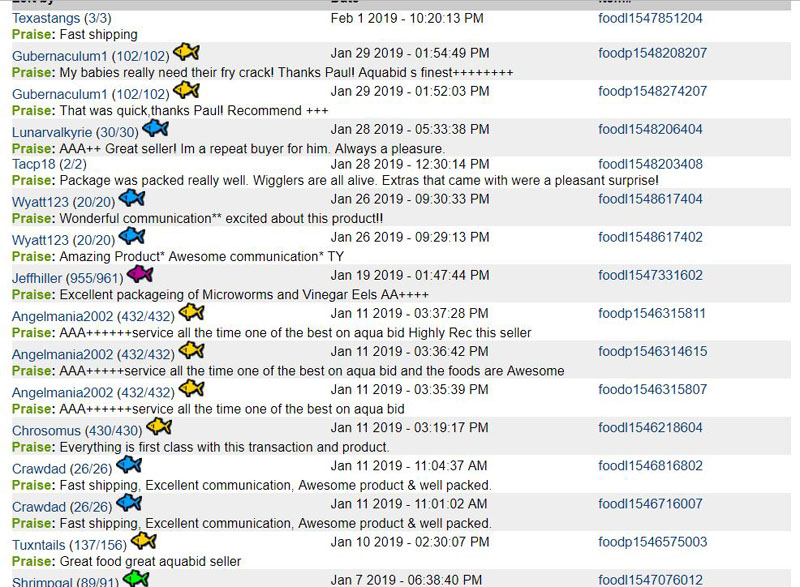 © 2019 Fishguy's Place - All Rights Reserved