D's

Cellar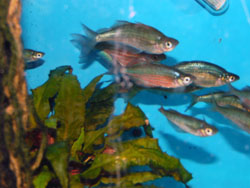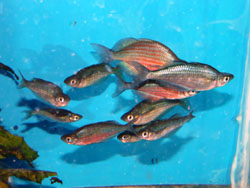 Top quality thoroughbred rainbow fish from Western Kentucky
Mops with 25-40 eggs per mop are available as indicated in the species list below for $25.00 + shipping.
Payment: PayPal only with payment expected within two days of receiving PayPal invoice.
Shipping: Fish shipped to continental US only, on Monday or Tuesday after payment clears. Fish will be purged for 24 hours prior to shipping, and only after payment clears.
Shipping for fish is via FedEx Ground or USPS Express Mail at actual cost. Heat packs if required are $2.00. Please email for shipping estimate prior to purchasing. In case of extreme inclement weather shipping will be delayed at seller's discretion.
Live arrival is guaranteed if buyer notifies me of any DOAs within two hours of delivery and sends a picture of the DOA fish in the bag. Only the purchase price of the fish is guaranteed, not shipping.
Please ask any questions you have before bidding or making a purchase.
Check my listings on AquaBid for other special offers.
Species List
Rainbow Fish & Eggs
Species
Size
Availability
Mops Now
C. alleni Wapoga
-
Late Summer '19
No
C. fasciata Kali Biru
2"+
Available
No
G. dorityi
1.5"+
Available
No
G. incisus
-
Late Summer '19
No
G. multisquamatus Pagai
-
Late Summer '19
No
G. pseudoincisus,
-
Late Summer '19
No
G. wanamensis
-
Late Summer '19
No
M. affinis Pagwi
-
June 2019
No
M. boesemani Lake Aytinjo
-
Late Summer '19
No
M. lacustris Lake Kutubu
1.25"+
Late Summer '19
No
M. parva
1.25"+
Available
No
M. rubrostriata (F1 x Wild)
-
Fall '19
No
M. sp. Kali Semen
-
Late Summer '19
No
M. inornata Coomalie Crater
-
Summer '19
No
© 2019 Fishguy's Place - All Rights Reserved