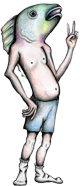 How To Place An Order
The order process is personal, simple and direct. All orders are guaranteed 100%. I always combine shipping to give you the best price. Here is how it works
1 - Decide what you want to order
Browse the site, or use the Master Price List to select the items you want to purchase. Jot down the item codes of those items.
2 - Email your order to place it

Email your selections, including item codes to order@fishguysplace.com Include your zip code so I can check shipping options and temperatures. Let me know if you will pay with PayPal or US Postal Money Order available at any post office. These are the only forms of payment I accept.
3 - Payment
I respond to your email with a total, and either a PayPal invoice you click on to make payment, or my snail mail address for your money order. PayPal payments by invoice only. Please wait for my invoice and do not email gift payments for merchandise.
4 - Shipping
When your payment comes in, I send you a payment received email and ship your order. I almost always ship next daty, and never later than second day after payment is received. I ship Monday - Friday.