02/25/23 - Please refresh your browser on all pages to see latest site updates.
---
Contact Fishguy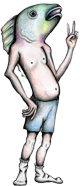 Email
You can email Fishguy with any questions or comments: question@fishguysplace.com
FaceBook
Visit and friend the Fishguy on Facebook. His human alter-ego there is Paul Pierre. Here is a link to his page.

---
© 2022 Fishguy's Place - All Rights Reserved